Pouleuses à commande filaire
The voice trap controllers of JP BARON presents all functionality required for complete automation of your shootion ground.
Very easy to use and configure. Compatible with ALL system of launchers.
DATEC Controller

All disciplines
15 launchers. Cable and Radio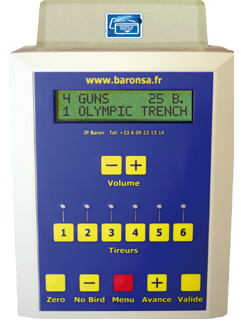 Caractéristics
the box resist very well on rain.
Very simple to use and configure.
Automatic No-bird with limit.
Work with 5 micros for all except for skeet 8 micros used.
Working mode for count up or count down with cards.
Option: A long range radio sender module AM and FM include on the DATEC box.
32 * 8 launchers or 16 * 15 launchers.
Electric power supply 12 volts DC ou AC (maximum 18 volts DC)
A relay of machine accept 1 Ampére maximum.

FITASC Agrément 2020

For International championnachip of Compak and trap.
Programs
Up to 55 programs on internal memory.
40 programs officiels for FITASC (version 2020 on demand.)
Others programs include: OT, UT, ABT, DTL, skeet, compack, Sporting. Double Trap.
With software BBE232.exe, you have a possibility to make your own programs.
Score management
Composite output for télévision.
Referee Box to manage zeros, break and no-bird.
Light Ouput for lamp of microphones.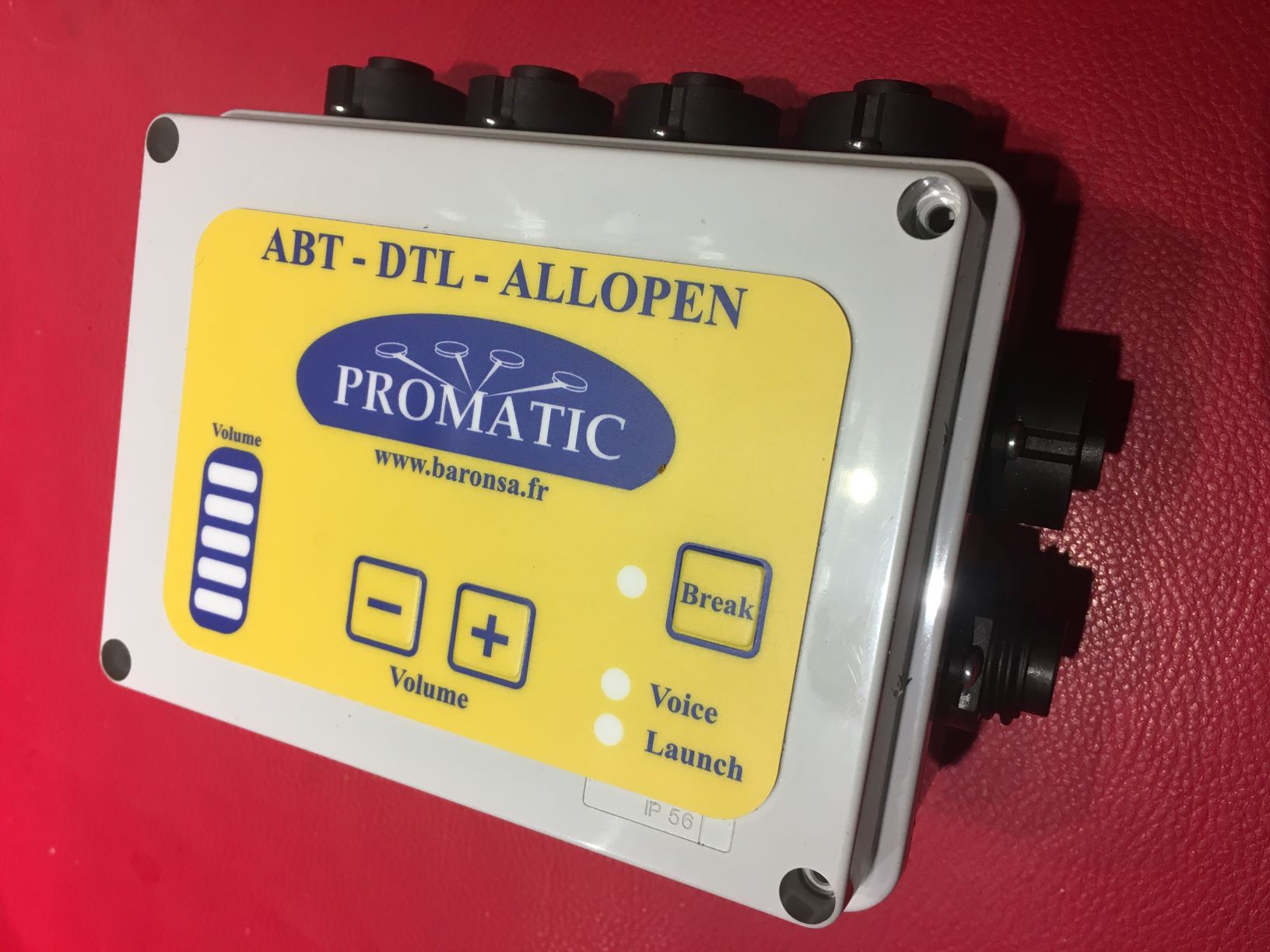 Version with launcher selection for Universal Trench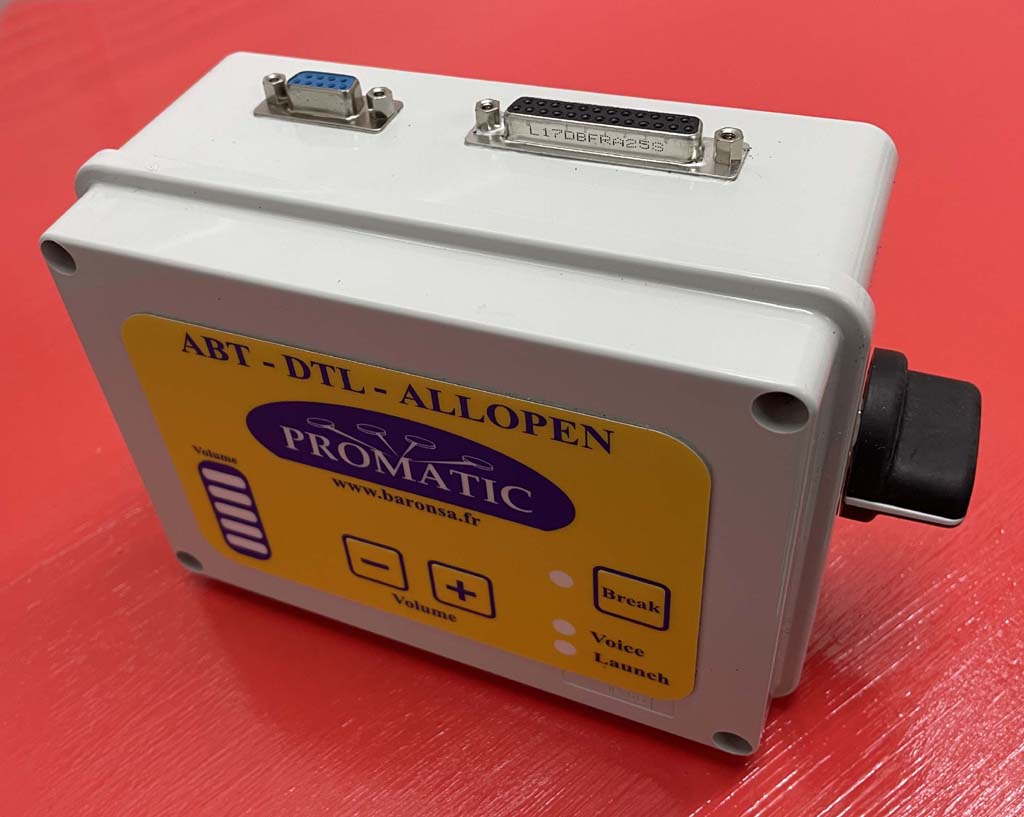 Caractéristics
Very good immunity to noise from other installations.
All micros open with a minimum 2 up to 5 micros.
Launch Immediate or up to 1.5 second randomly.
The relay accept up to 2 Amperes.
Compatible with all launchers and works on the launcher's 12v.
Female connectors connections:
Each microphone connects to pin 2 and 3 of the connector.
A minimum of two microphones is required.
For optimum operation, use five microphones.
Male connector connection:
Positive = Pin 1 Brown
Négative = Pin 2
Machine = Pin 3 Output
Machine = Pin 4 Input
Version for your DATEC installation:
You connect this box on place of your DATEC.
You have a possibility to select the launcher need, 1 up to 5 with a soft rotative selector.
Ideal for training or new shooters, on UT or DTL.

To use, unplug your datec and plug this box to have all free possibilities of post and launching. All Micros are open.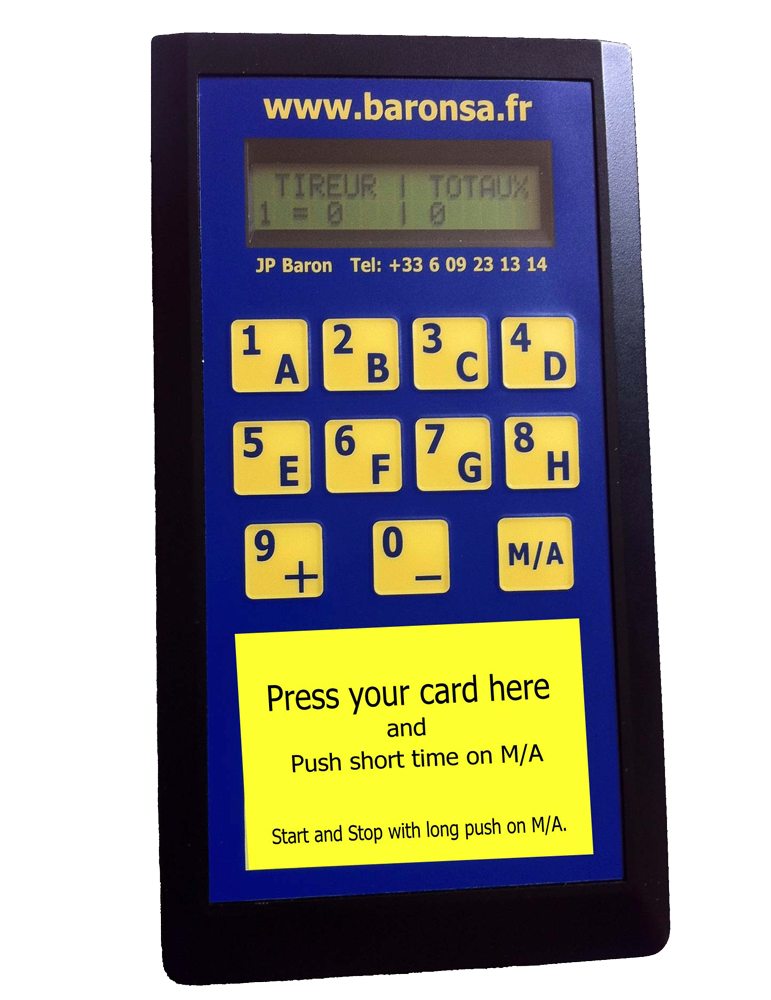 Caractéristics
New software include FLUSH program to launch random or sequential.
Internal microphone for voice detection to use alone.
the box resist very well on rain.
Possibility to manage 64 layouts of 8 machines or 32 time 16 machines.
You choice for 1 or 8 shooter counters.
Skeet managment with random timer.
Power supply by 4 batteries. R6-AAA (6000 clays for a set)
Work on count up or count down mode.
Security by password or manager card.
Radio modes
AM for all JPB.receivers.
AM CANAL for new JPB receivers.
FM for Promatic receivers.
Cards managment
MIFARE sans contact - JPB
MIFARE sans contact - Promatic.
Caractéristics
The relay of machine accept 1 Ampére maximum.
Power supply 12v up to 24v DC or AC with minimum 8v DC.
By default no switches plugged.
You configure the channel and machine of receiver with maried mode of long range radio sender.
The recent modules have a LED to check how she work.
Radio modes
AM JPB Basique.
AM JPB Basique and AM Channel for version with LED include.
Fonction of 4 cables
Positive = Brown or Red
Négative = Grey or Blue
Commun = Black
Machine = Yellow/Green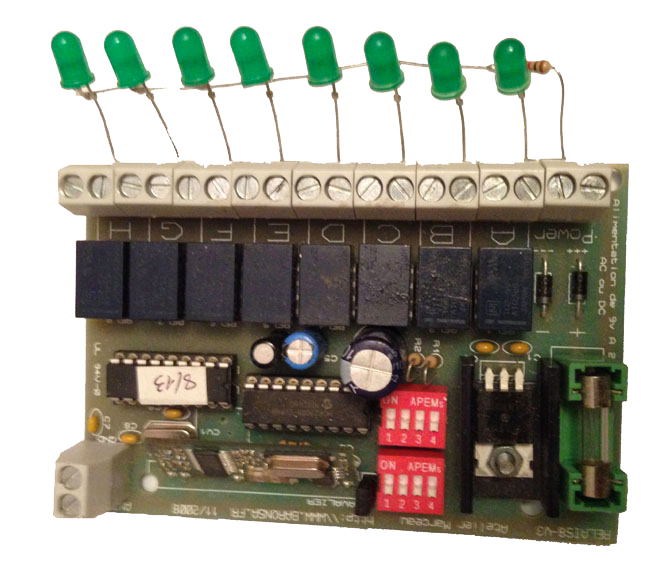 The LEDs simulate machine output (not include)
Caractéristics
The relay of machine accept 1 Ampére maximum.
Power supply 12v DC or AC with minimum 8v DC.
Accept a channel up to 32 * 8 machine.
Radio modes
Options on internal switch on/off
1 = on Enable machines 9 up to 16 on active channel.
2 = on Enable skeet mode to manage lights.
3 = Not used actually
4 = on Lock the configuration. Be used after a valid launching.